Examples of custom designs we have completed for clients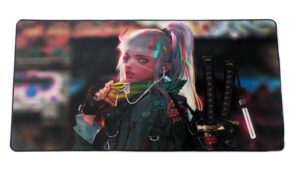 All designs supplied to us and added to the gamer desk mat for our client.   We can do the same for you your your gaming team. 
Why choose our gamer mouse pads?
Selecting the right mouse pad to support it is vital to maximizing its performance, so you can game to your fullest potential. 
Our gamer mouse pads are available in a range of sizes to suite your needs. The precision surfaces provide excellent control and extreme speeds.  Improve your gaming to the max by matching your mouse to an excellent over sized mouse pad.  No matter what your play style is,  our gamer specific mouse pads will make all the difference. 
If you need smaller sized mouse pads please visit our other web site www.mouse-pads.co.za